Pura Vida Motorbike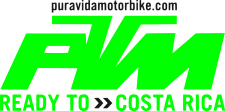 Created in 2016, Pura Vida Motorbike is a tourism and motorcycle rental company Ktm and Kawasaki in Costa Rica.
This dynamic company will help you discover the true meaning of Pura Vida and visit the most beautiful places, outside the tourist route. All our motorcycles have less than 30,000 km, are kept in KTM and our mechanical guide checks them before and during each departure. We also have spare motorcycles.
Our goal is to guarantee the pleasure of driving in all serenity and immerse it in the atmosphere, local customs and answer all your questions and expectations.